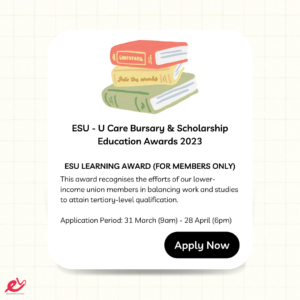 ESU – U CARE BURSARY AND SCHOLARSHIP EDUCATION AWARDS 2023
ESU LEARNING AWARD 2023 (FOR MEMBERS ONLY)
ESU Learning Award recognises the efforts of our lower-income Union members in balancing work and studies to attain tertiary-level qualification.
Applications are now open from 31 March 2023, 9am, and close on 28 April 2023, 6pm.
ELIGIBILITY CRITERIA
The award is open to all ESU Ordinary Branch (OB) members and Directly-Serviced General Branch (DSGB) members who had completed in the past year a Diploma, Degree or Masters course.
Local Primary /Secondary School
Recognized local institution/ university (ITE/ Pre-U/ JC/ Poly/ Arts Institutions – LASALLE, NAFA/ University)
Members who are currently applying, receiving or have received scholarship/ bursary award from other organisations for year 2023 are not eligible to apply for the above award.
Member must be a paid-up member with at least 3 months of continuous membership at the point of application and with no outstanding membership fees due.
SELECTION CRITERIA
Member MUST minimally pass all subjects.
Income Criteria:
Total Monthly Gross Household Income+ of $3,700 and below; OR
Per Capita Income of $925 and below if gross household income exceeds $3,700
+Gross income is defined as all income derived from employment/ business. Inclusive of overtime and allowances.
DOCUMENTS REQUIRED
It is mandatory to submit all documents stated below. Documents submitted will be kept by ESU and will not be returned.
Completed application form – one form per member
Photocopy of the most recent academic result slips for final semester examinations for AY 2022/2023. For courses with modular result slips, please attach all modular result slips
Photocopy of member's NRIC
Photocopy of Birth Certificate(s) or Identification card(s) of family members living in the same household
All working member/family member must attach latest pay-slip and not CPF contribution statement
Only non-working member/family member is to submit CPF contribution statement
Any other relevant supporting documents
---
AWARD QUANTUM
Application form must be duly completed and submitted to Education Services Union with full supporting documents by 6.00 pm, Friday, 28th April 2023. Late submissions will not be accepted.
All applications will be considered but eligibility does not guarantee success in award. You will be informed on the outcome of your application by post & email by mid-June 2023.
Attendance for successful applicants at the award presentation ceremony is compulsory. Applicants are not allowed to nominate proxies to collect the award on their behalf. Successful applicants who absent themselves from the award ceremony would have forfeited their award(s).
The award presentation will be held on Saturday, 8th July 2023, morning.
ESU reserves the right to:
confirm with your employer(s) and relevant institutions on the documentary proof for the application;
request for additional supporting documents, for verification and audit purposes;
void application or demand for a full refund of grant awarded if information provided by applicant is found to be untrue; and
grant approval to the most deserving applicants
reject incomplete and late submission
The decision shall be final and no correspondence will be entered into before, during and after the decision is made.
Please download the application form here: ESU Application Form – Learning Award 2023