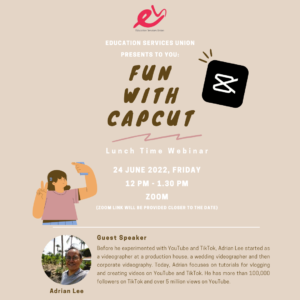 Have you jumped on the Tiktok bandwagon recently? If you have just started using Tiktok or keen to find out more on how to edit your videos to post on TikTok, the Education Services Union is organising a Lunchtime Webinar – Fun with CapCut for all who are keen to learn more on this! ?
We have previously organised this as part of our Flagship Event – Jamboree 2022 for our Early Childhood Educators and received good feedback on the session. As such, we will be organising another session for all our members in the different sectors!
Date: 24 June 2022, Friday
Time: 12pm – 130pm
Mode: Virtually via ZOOM
If you are keen to join the session, register here.
Feel free to email us if you have any questions. We hope to see you there!