Attend workshops that are personalized for you!
This is your chance to learn more about "Creating An Inclusive & Future Ready Sector" (CPD Hours Eligible)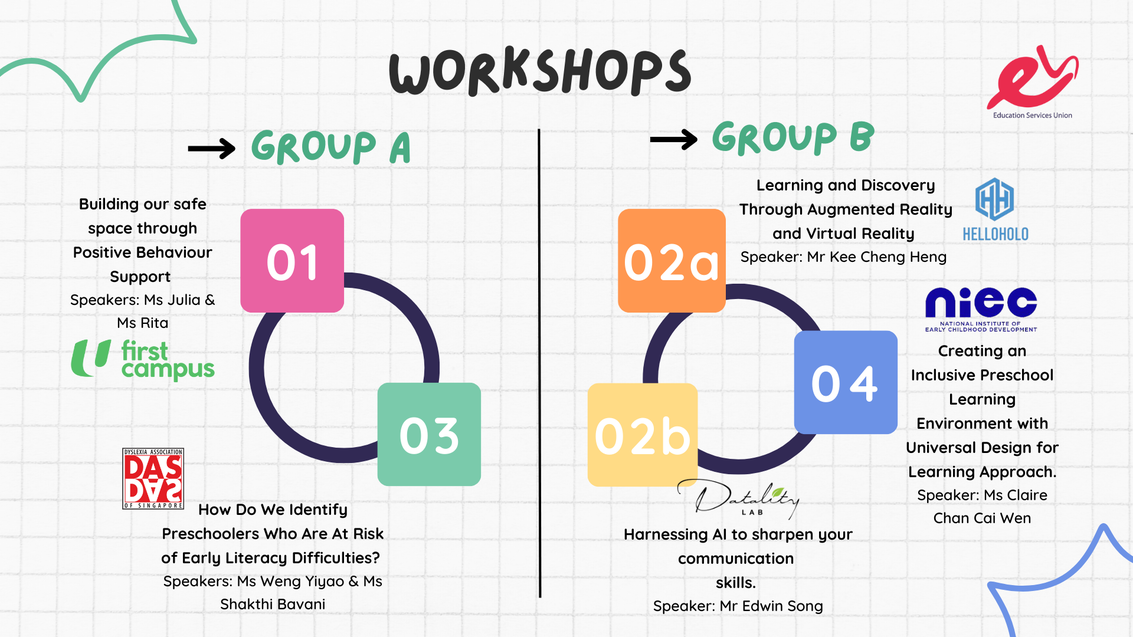 For this year's Jamboree, we have invited a number of speakers to expand the topics covered during our event. You may choose from 2 groups: Group A and Group B.
Building our safe space through Positive Behaviour Support
Successful classroom management is one of the first few essential skills that every classroom teacher needs to have. With the ever-changing characteristics and needs of the young children, teachers are now challenged to create classrooms that are psychologically safe as they work to understand and embrace the unique needs of the children. In this session, the facilitators aim to share practical classroom strategies using the Positive Behaviour Support framework to support children in their classrooms.
Speakers: Ms Julia & Ms Rita [NTUC First Campus]
How Do We Identify Preschoolers Who Are At Risk of Early Literacy Difficulties?
"The child is just slow, right?", "He/she will catch up! Just wait and see!" Is this really the case? How do you identify a preschool child who is at risk of developing early literacy difficulties? Where do you get help? What can you do as an educator or a parent to support your child in class or home? Join the DAS Educational Therapists in this fun and informative session to have your questions answered.
Speakers: Ms Weng Yiyao & Ms Shakthi Bavani [DAS]
Learning and Discovery Through Augmented Reality and Virtual Reality
This workshop aims to enhance participants' understanding of Immersive Media and its cutting-edge capabilities, with a focus on its applications in EduTech and Early Childhood Education. Attendees will have the opportunity to explore some of the popular use cases in education and gain valuable insights in regard to the benefits and challenges when deploying such solutions. Through the interactive discussions and demonstrations, participants will gain a deeper understanding of this new form of education and learning and will be able to make more informed decisions when integrating such immersive technology into their educational operations.
Speaker:Mr Kee Cheng Heng [HelloHolo]
Harnessing AI to Sharpen Your Communication Skills
Workshop shares how to transforms communication in the 21st-century workplace, made possible by Moodie.ai, a personalized SaaS communication training platform for students and professionals to practice presentation and language skills anytime anywhere. Moodie.ai mimics human coaching by harnessing AI observations, cognitive interpretations and automated feedback, enabling learners to progressively practice and improve their public speaking, sales pitching, interviewing skills etc.
Speaker: Mr Edwin Song [Datality Lab]
Creating an Inclusive Preschool Learning Environment with Universal Design for Learning Approach.
The workshop aims to provide educators with the guiding principles of Universal Design for Learning (UDL) and how they can be used to enhance the inclusiveness of the learning environment that can be designed for all children to gain knowledge and cultivate their learning skills.
Educators will be able to gain valuable insight into UDL which focuses on designing and implementing the curriculum that can be used to connect every child to a learning experience
Regardless of abilities. Through UDL, educators can promote inclusion in their classrooms while making learning fun and engaging for children.
Speaker: Ms Claire Chan Cai Wen [Lecturer, NIEC]
Remember to Submit your CPD Hours too!
We hope to see you there!
Until then! Look out for our emails for payments and confirmation 🙂